Dominatrix Escorts In London
The most luxuriously adventurous, intensely daring and imaginative specialist fantasy inspired visiting outcall services in London. Call our very exciting agency on 07775300878, if you are looking for Dominatrix escorts local to you.
2022 has seen an explosion of interest in specialist role play/fantasy escort services in London and the UK. It has further surpassed the exponential growth of interest and has reached a new all time high. 2022 has seen many people feeling the aftermath of navigating a global pandemic. Dominatrix escort services took a huge hit due to the pandemic. Today moving into the 2022 summer months, many people are embarking on booking outcalls with dominatrix escorts. Did you know that UK online dating and specialist VIP adult dating has become significantly less taboo and more niche? Dominatrix escorts are still fast becoming the top niche in specialist UK escort services. Everyday people in Britain are becoming more and more dating. A new demographic of people of different backgrounds are now more open to exploring the wide spectrum of human interaction. Certainly human interaction lacked during covid lockdowns. What was taboo ten years ago isn't so much today. Change is something that is more rapid in today's world. In these very diverse, modern times; many adventurous gentlemen and daring ladies embrace their sensually inspired fantasies with lots more confidence.
The Dominatrix Escort Revolution In The UK (2022)
The perfect forum for personal revolution is in a the discreet world of role play escort services. With many people in their 50s and 60s divorcing, that demographic find themselves newly single and more free in decades. This has led people to venture into a world which was alien to them. Many people in their twenties and thirties are embracing the wonderful world of domination. The dominatrix escort revolution started in the early 2000s as some dominatrixes ventured into the world of escorting.
What Is A Dominatrix?
A dominatrix is a lady who takes a really dominant and powerful assertive role in BDSM and fantasy activities. They are often referred to as 'mistresses' or sometimes 'dominant mistresses'. However, this is a term that the dominatrixes do not usually liked to be referred to as. When it comes to ethical conduct and safety, it is something that is vitally important to the domination community. Anybody can say they are a dominatrix, but it does not mean they adhere to all the rules, safety and conduct of the industry.
What Is A Dominatrix Escort?
A dominatrix escort is a lady who provides companionship only escort services. Their escort service is inspired by the world of dominatrixes. There is no resonance between the dominatrix world and the escort world. This is simply a specialist outcall experience provided to people who require a date with a BDSM feel to it.
Some gentlemen (especially those in high powered positions and jobs) love to be dominated. Especially if they are being dominated and bossed about by a very sexy and dominant woman. Our very daring dominatrix escorts provide a powerfully sensual companionship only fantasy/domination escort service to discerning gentlemen. Do you wish you could be told what to do for once. Also being told when to do it and how to do it? Well, our very adventurous dominatrix escort service is provided by the most alluring and vivacious escorts in London and select UK regions. Do you want to experience intense total bliss and pleasure as you courageously fulfill your fantasy? You can experience a daring companionship only fantasy / role play pain and hardship escort experience which your heart truly desires. You will submit to the demands of your dominatrix. If you are an adventurous or even a reserved gentlemen or a high flying VIP businessman, you may wish to book this bespoke outcall service. For very best domination service in London, our beauties will provide this electrifying outcall experience which is life enhancing. Dressed in the sexiest rubber, leather and PVC attire their specialist range of special range of sexy accessories makes the date ever so tantalizing
Dominatrix Escorts Of The Month - (Mylie, Sadie, Scarlett, Lea & Roxane)
Learn more about our sexy dominatrix inspired female escort companions. They are as follows (left to right) as follows:
Mylie is as naughty-minded, irresistibly attractive and flamboyant beauty. This petite Scottish lady knows how to safely push the limits of her dominatrix outcall. She has a powerful natural confidence that instantly grabs the respect from men wherever she goes. She basically is your boss and that is a reality you have to grasp from now. Mylie is a very artistic and creative lady and that can be seen in her sexy body art. Even though she is petite she has a powerfully commanding presence, full of sensual and flirtatious energy. This 32DD super busty Scottish lady provides the most adventurous and daring discreet companionship only domination escort experience. Does this buxom dark-haired goddess have a few whips in her closet? Who knows. Maybe she has a few luxurious paddles or feather dusters that she likes to collect in her spare time. She has many unique hobbies like that. Now, are you going to take the step and book a daring date with this busty babe?
Sadie is the sexiest Canadian escort in the UK who provides the hottest dominatrix inspired outcalls. This beauteous petite redhead is a naturally confident woman and has adventurous and flamboyant personality. Sadie is a very daring lady whose sensationally powerfully confident presence immediately commands absolute respect. Sadie has a sensually powerful and domineering aura that makes many a guy tremble in her presence. She will under no circumstances accept any back chat from you; even if you are a VIP millionaire. Sadie loves to dress up in the the most stylish fantasy escort/PVC clothing. In her intensely romantic company, you are transported to a remarkable world of inspirational fetish.
Back by popular demand is Scarlett. A highly sophisticated lady she is one of the hottest English dominatrix escorts in London. This fiery and slim adventurous blonde beauty has an extremely bossy nature and knows she is the boss. Scarlett is an exceptionally perfect 'strict female boss' who is very demanding. This fantasy role play outcall is gives you the opportunity to do what she says - or there will be....consequences. If you need some intense bossing about for an hour at lunch or maybe a few hours after work, this gorgeous blonde dominatrix escort is perfect.
Lea is a very daring, wild and open-minded English brunette escort. She is the ultimate fetish escort companion who loves dressing up in the sexiest fetish clothing in her spare time. She loves for adventure and pushing the boundaries of excitement and fun. She has a very naughty smile which will make your imagination run wild and ignite the submissiveness in you. She is part of a sexy duo that unleash the most romantically intense flirtatious escort dates ever.
Roxane is as very vivacious, foxy and elegant lady who knows she is powerfully beautiful. She always commands respect from men wherever she goes and she is your boss, wherever you accept it or not. Roxane has an intensely sexy confidence that can make you feel so intimidated when you first meet her. This tall, busty English provides the most the unique and captivating companionship only domination escort experience.
All of these very sexy featured beauties have a sensual imagination and always respect your boundaries. Likewise they ask you to also respect theirs. This daring companionship only experience is intensely exciting and definitely aimed at guys who want to be more adventurous. Maybe you are a high powered boss or executive who is used to being in control. Sometimes the weight of all those responsibilities and power can make you quite detached from life. So maybe you require the imaginative and bossy company of a sexy dominatrix escort who knows how to be powerfully bossy.
FEATURED DOMINATRIX ESCORT (Robin)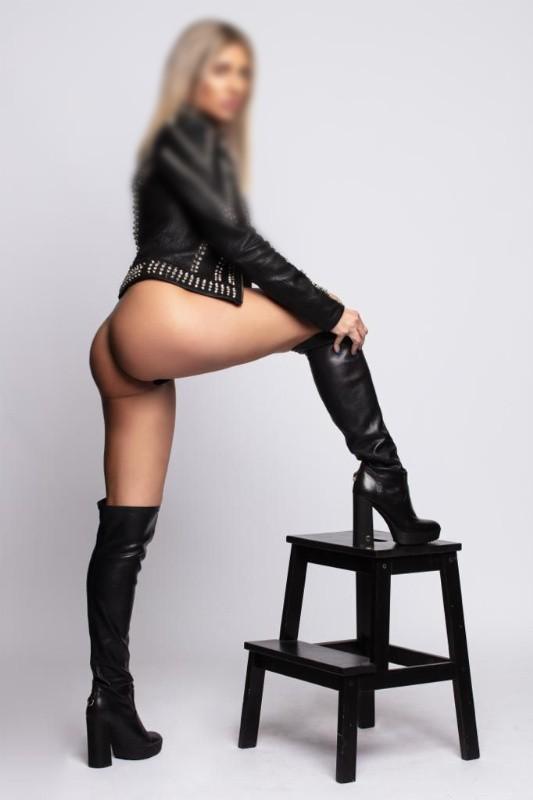 Robin is a leggy, youthful and vivacious, naughty-minded, British blonde beauty who loves to be the boss. This flawlessly sexy blonde beauty always knows how to safely push the limits of her intensely adventurous dominatrix outcall. Her supreme natural confidence and her almost hypnotic, sexy hazel eyes immediately makes you submissive. Her powerfully seductive gaze immediately grabs your attention that instantly grabs the respect from men wherever she goes. Robin is a playful lady who has so much diversity to her personality and her fantasy/fetish inspired escort services. From Strict Female Boss to Naughty Nurse inspired outcalls, you can be assured of an intensely adventurous time. If you are looking for a lady who is always in control and knows how to get what she wants - then book a date. Robin is a really fashionable and stylish dresser and has an extensive collection of the sexiest outfits. Even though she is only 5ft5 tall, she still commands a powerful presence. One which is full of the most flirtatious, sensually luxurious energy. When it comes to ensuring you have the time of your life, then rest assured you will in her intriguing company. For the UK's leading domination escort experience, book an outcall today with her.
The Special Range Of Dominatrix Services
Dominatrix escorts provide a service that has many exciting features and dynamics to it. There are many disciplines, fetishes and games which inspire our featured escort services. They are:
Tie & Tease - You are in for the most sensual surprise with this very imaginative and attentive service.
Role Play - The limits to this service are controlled by your daring imagination. It is the opportunity you must take for your fantasies to possibly become reality.
Fetish Play - The most unique and adventurous fetish experience in London. You will be in complete awe of every single moment and will want to savor each millisecond of the date.
Cross Dressing - Our fabulous beauties have an extensive selection of the sexiest fetish wear available. If you really love silky lingerie, rubber, PVC and leather clothing, then you are in for a treat. Our sensually confident dominatrix escorts have a wonderful wardrobe and collection of BDSM / fetish / domination, clothing, equipment and furniture. If you require your London dominatrix companion to dress from head to toe in leather, whilst cracking a fluffy leather whip as you are sitting on the latest BDSM furniture; then our agency can make your wish come true.
Foot Worship/Foot Fetish - If you adore and worship feet, then this is the specialist outcall for you. Dominatrix escorts with the sexiest feet and I diverse range of the sexiest footwear. Do you like high heels? Do you like wearing high heels?
Take a look at our fantasy escort clothing article to see the most popular costumes, clothing and accessories these sexy beauties like wearing.
The Power Hierarchy Of Dominatrixes
There is a 'power structure' and at the very top you have the Mistress (Dominatrix). They are a powerful dominating force in the interaction they experience with their 'submissive' client. There are different types of acts that your Mistress can demonstrate this gulf in power. This can be done in a verbal manner, where she is very demanding, bossy and in an intensely playful manner... 'demeaning'. There doesn't need to be any physical interaction in this instance. All requests by the dominatrix should be strongly adhered to in this very unique 'relationship' in each others company. However, there are instances where this total dominance still has influence even when the 'servant' is not in the physical presence of their mistress. This is a complete demonstration of intriguing power and submissiveness. BDSM which i outside the escort market has a very strong and dedicated community. One key talking point is that many UK Mistresses don't appreciate the incorporation of escort services into their 'world'. Many BDSM workers attribute all of the escort industry to the grey areas that some service providers can fall into. They all have professional standards and any niche that isn't purely their industry can cast a shadow on it.
Interesting Fact - Did you now that dominatrix services are one of the most common money reasons marriages end? This was reported by an leading online news media website called the Daily Record. So many guys who are secret spenders on this service who are married ... do you really want to risk it?
Safety For Clients & Dominatrix Escorts
All the escort services our beauties provide are conducted in the safest and most professional manner. Safeguarding the safety of both escort and client our priority sand that is never compromised. The escort will not engage in any unsafe or dangerous behavior during your discreet date. Also, they will not carry out requests that are deemed dangerous, illegal or fall out side the boundaries of the service.
We have specially handpicked the best, most knowledgeable and most open-minded fetish / dominatrix escorts who provide a very safe and intense domination experience. They want you to encounter a sensationally exciting experience that you will treasure forever.
Our lesbian dominatrix experience is the hottest in the UK . Do you desire to up in the raciest lingerie. All of our escorts have an amazing wardrobe with a multitude of sexy skirts, tops, blouses and accessories. You can transform yourself into a powerful diva and explore your imagination.
Many men find that very dominating women have a very sexy appeal. In the companionship only role play/fantasy escort experience, some require the complete submission and reliable servitude of gentlemen. Many of these dominatrixes have fully equipped dungeons, housing a selection fetish and BDSM equipment. The "slave" experience can be the most sensually exciting and exhilarating experience a gentlemen can ever encounter. There are high flying bosses and executives who like experiencing humiliation or light punishment being intensely dished out to them. If you are a wealthy VIP then you will want to only book the most luxurious and experienced dominatrixes.
Our agency features a diverse selection of specialist companionship only fantasy inspired outcalls and fetish escort services:
Escort Rates Are:
1 hour - from £120
Additional hours - from £100
Overnight - from £800
For all bookings please contact First Call Escorts on 07775300878.
Do you prefer the to encounter an dominatrix experience from an independent escort instead? There are hundreds of UK mistresses advertising their domination services online. One website that you can find them on is called Professional Mistresses. They have over a 150 escorts in Central London, each with their online profile where you can view their pictures and information about them. Also, the OpenAdultDirectory.com has a wide range of BDSM/ Fetish / Mistress escorts.